The Roosevelt Dime was introduced in 1946, shortly after the conclusion of World War II, and less than a year after the death of the 32nd President, Franklin D. Roosevelt. This represented the fourth circulating denomination to change its design from a depiction of Liberty to that of a former President. The cent, nickel, and quarter,  had their designs changed in 1909, 1938, and 1932.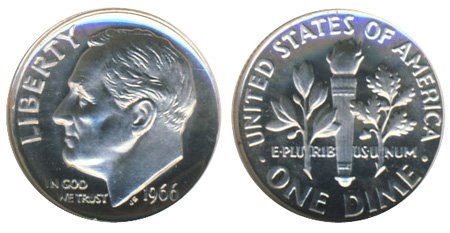 The new obverse design for the dime would featured the head of Franklin D. Roosevelt facing left with inscriptions "Liberty", "In God We Trust", and the date. The reverse of the coin featured a lit torch with sprigs of olive and oak to either side. The inscriptions included "United States of America", "E Pluribus Unum", and "One Dime".
When introduced, the coins were minted in a composition of 90% silver and 10% copper, although this was changed in 1965 to a composition of 91.67% copper and 8.33% nickel. During the course of series, the coins have been produced at the Philadelphia, Denver, San Francisco Mints. To celebrate the 50th anniversary of the design, coins were also specially produced at the West Point Mint.
Depending on the focus of a particular collection, Roosevelt Dimes can be an extremely approachable series for new collectors or a highly challenging series for advanced collectors. For beginners, a basic set of date and mint mark combinations can be assembled without much difficulty even at the gem level.
Collectors looking more of a challenge can seek out some of the scarcer varieties of the series or seek to assemble a set of fully struck coins carrying the Full Torch or Full Bands designation. Many issues of the series are exceedingly difficult or impossible to find designated as such by one of the major coin grading companies.