Guide to U.S. Roosevelt Dimes
The Roosevelt Dime was introduced in 1946, shortly after the conclusion of World War II and less than one year after the death of Franklin D. Roosevelt, the 32nd President of the United States. This represented the fourth circulating denomination to change its design from a depiction of Liberty to that of a former President. The cent, nickel, and quarter had their designs changed in 1909, 1938, and 1932. The Roosevelt Dime series has continued through the present day through one major composition change and only a minor modification to the original design.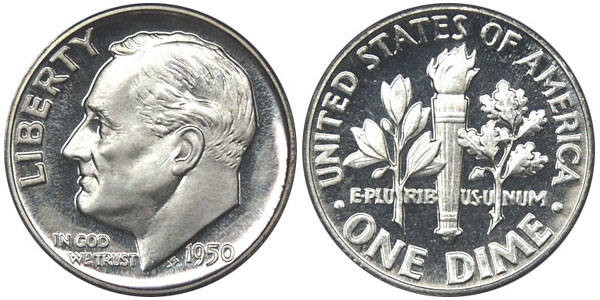 While sitting for a portrait on April 12, 1945, Franklin Delano Roosevelt suddenly complained about a severe headache, slumped forward unconscious, and passed away later that same day. Due to his popularity with the American public, Treasury officials suggested that a denomination should be chosen to feature a portrait of the former president. The dime was eventually selected, with the new designs to be prepared by United States Mint Engraver John R. Sinnock.
In late 1945, Sinnock submitted his design sketches for the Roosevelt Dime to the Commission of Fine Arts. The initial models were not approved, and various changes were made to the obverse and reverse designs, as well as the size, placement, and font of the inscriptions. The finished design was approved in January 1946, and production soon began. The entire process was rushed considerably so that the initial release would coincide with the annual fundraising event of the March of Dimes. President Roosevelt founded this non-profit organization to combat polio and improve the health of mothers and babies.
The obverse design of the Roosevelt Dime features a left-facing portrait of the former president. Although not confirmed, some historians believe that Sinnock copied his portrait from a bronze plaque created by African-American artist Selma Burke. The inscription "LIBERTY" appears in front of the portrait, while the motto "IN GOD WE TRUST" and the date appear below. The designer's initials "JS" appear at the truncation of the neck. In 2000, a minor modification to the obverse design was made to reduce the size of the portrait in order to move the inscriptions away from the rim.
The reverse design features a lit torch at the center with an olive branch and oak branch on each side. The initial sketches prepared by Sinnock had depicted the lit torch and branches grasped by a hand, but the design committee rejected this version. The final design is completed with the motto "E PLURIBUS UNUM" in a straight line, interrupted by the torch and branches, and the inscriptions "UNITED STATES OF AMERICA" and "ONE DIME" surrounding it.