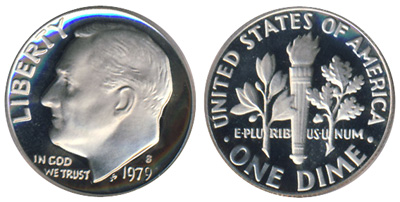 Roosevelt Dimes were struck in proof format for nearly every year of the series. In general, these coins have lower mintages than their circulation counterparts, but since the coins were usually purchased by collectors or dealers, the survival rates are much higher and the coins remain readily available.
The first proof Roosevelt Dimes were struck in 1950, when the production of proof coinage resumed at the Philadelphia Mint. Annual proof sets were offered for sale to collectors from 1950 to 1964, containing one example of each denomination, including the dime.
For the years 1965 to 1967, no proof coins would be struck. For these years, special mint sets were produced, which contained coin with proof like qualities.
Proof coinage resumed in 1968, however production was shifted to the San Francisco Mint. The Proof Roosevelt Dimes accordingly carried the "S" mint mark. These coins were also struck for inclusion within proof sets offered to collectors each year.
Starting in 1992, the United States Mint began to produce Silver Proof Sets, containing the dime, quarter(s), and half dollar struck in 90% silver. Accordingly, for these years two different versions of the proof Roosevelt Dime exist, one struck in the standard clad composition and one struck in 90% silver.
Similar to the circulation strike coins of the series, there are no regular issue proof coins that are particularly rare or difficult to acquire. The exception rests with some or the earlier date coins that are scarce with cameo or deep cameo contrast, and some later date proofs (1968, 1970, 1975, 1983) minted without the San Francisco Mint mark.
Proof Roosevelt Dime Mintage
| | |
| --- | --- |
| 1950 | 51,386 |
| 1951 | 57,500 |
| 1952 | 81,980 |
| 1953 | 128,800 |
| 1954 | 233,300 |
| 1955 | 378,200 |
| 1956 | 669,384 |
| 1957 | 1,247,952 |
| 1958 | 875,652 |
| 1959 | 1,149,291 |
| 1960 | 1,691,602 |
| 1961 | 3,028,244 |
| 1962 | 3,218,019 |
| 1963 | 3,075,645 |
| 1964 | 3,950,762 |
| 1968-S | 3,041,506 |
| 1969-S | 2,934,631 |
| 1970-S | 2,632,810 |
| 1971-S | 3,220,733 |
| 1972-S | 3,260,996 |
| 1973-S | 2,760,339 |
| 1974-S | 2,612,568 |
| 1975-S | 2,845,450 |
| 1976-S | 4,149,730 |
| 1977-S | 3,251,152 |
| 1978-S | 3,127,781 |
| 1979-S | 3,677,175 |
| 1980-S | 3,554,806 |
| 1981-S | 4,063,083 |
| 1982-S | 3,857,479 |
| 1983-S | 3,279,126 |
| 1984-S | 3,065,110 |
| 1985-S | 3,362,821 |
| 1986-S | 3,010,497 |
| 1987-S | 4,227,728 |
| 1988-S | 3,262,948 |
| 1989-S | 3,220,194 |
| 1990-S | 3,299,559 |
| 1991-S | 2,867,787 |
| 1992-S | 2,858,981 |
| 1992-S Silver | 1,317,579 |
| 1993-S | 2,633,439 |
| 1993-S Silver | 761,353 |
| 1994-S | 2,484,594 |
| 1994-S Silver | 785,329 |
| 1995-S | 2,117,496 |
| 1995-S Silver | 679,985 |
| 1996-S | 1,750,244 |
| 1996-S Silver | 775,021 |
| 1997-S | 2,055,,000 |
| 1997-S Silver | 741,678 |
| 1998-S | 2,086,507 |
| 1998-S Silver | 878,792 |
| 1999-S | 2,543,401 |
| 1999-S Silver | 804,565 |
| 2000-S | 3,082,572 |
| 2000-S Silver | 965,421 |
| 2001-S | 2,294,909 |
| 2001-S Silver | 889,697 |
| 2002-S | 2,319,766 |
| 2002-S Silver | 892,229 |
| 2003-S | 2,172,684 |
| 2003-S Silver | 1,125,755 |
| 2004-S | 1,789,488 |
| 2004-S Silver | 1,175,934 |
| 2005-S | 2,275,000 |
| 2005-S Silver | 1,069,679 |
| 2006-S | 2,000,428 |
| 2006-S Silver | 1,054,008 |
| 2007-S | 1,702,116 |
| 2007-S Silver | 875,050 |
| 2008-S | 1,405,674 |
| 2008-S Silver | 763,887 |
| 2009-S | 1,482,502 |
| 2009-S Silver | 697,365 |
| 2010-S | 1,103,815 |
| 2010-S Silver | 585,401 |
| 2011-S | 1,098,835 |
| 2011-S Silver | 574,175 |
| 2012-S | 794,002 |
| 2012-S Silver | 395,443 |
| 2013-S | 802,460 |
| 2013-S Silver | 419,719 |