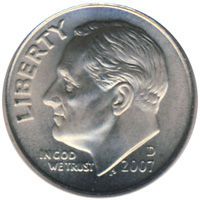 The Roosevelt Dime had been minted continuously from 1946 to present. During the long duration of the series, the composition changed from 90% silver to the current copper-nickel clad composition. Mintages have varied widely, although no coin issued for circulation had a mintage of less than 10 million.
Coins have been struck at the Philadelphia, Denver, and San Francisco Mints for circulation. For the years 1965 to 1967, coins produced at various mints were not identified by mint mark.
The lowest mintage coin issued for circulation was the 1955 Roosevelt Dime at 12,450,181 pieces. The 1996-W Roosevelt Dime had a lower mintage of 1,457,000, but this coin was only released within the 1996 Uncirculated Mint Set. The highest mintage occurred for the 1967 Roosevelt Dime with 2,244,007,320 produced.
In 2009, circulating coin production experienced a sharp decline, falling from levels in the billions to less than 100 million from each Mint. In the following years, the annual levels rebounded solidifying the status of the 2009-dated issues as a potential future key date. Click here to view proof coin mintages for the Roosevelt Dime.
Roosevelt Dime Mintages
| Issue | Mintage |
| --- | --- |
| 1946 | 255,250,000 |
| 1946-D | 61,043,500 |
| 1946-S | 27,900,000 |
| 1947 | 121,520,000 |
| 1947-D | 46,835,000 |
| 1947-S | 34,840,000 |
| 1948 | 74,950,000 |
| 1948-D | 52,841,000 |
| 1948-S | 35,520,000 |
| 1949 | 30,940,000 |
| 1949-D | 26,034,000 |
| 1949-S | 13,510,000 |
| 1950 | 50,130,114 |
| 1950-D | 46,803,000 |
| 1950-S | 20,440,000 |
| 1951 | 103,880,102 |
| 1951-D | 56,529,000 |
| 1951-S | 31,630,000 |
| 1952 | 99,040,093 |
| 1952-D | 122,100,000 |
| 1952-S | 44,419,500 |
| 1953 | 53,490,120 |
| 1953-D | 136,433,000 |
| 1953-S | 39,180,000 |
| 1954 | 114,010,203 |
| 1954-D | 106,397,000 |
| 1954-S | 22,860,000 |
| 1955 | 12,450,181 |
| 1955-D | 13,959,000 |
| 1955-S | 18,510,000 |
| 1956 | 108,640,000 |
| 1956-D | 108,015,100 |
| Issue | Mintage |
| --- | --- |
| 1957 | 160,160,000 |
| 1957-D | 113,354,330 |
| 1958 | 31,910,000 |
| 1958-D | 136,564,600 |
| 1959 | 85,780,000 |
| 1959-D | 164,919,790 |
| 1960 | 70,390,000 |
| 1960-D | 200,160,400 |
| 1961 | 93,730,000 |
| 1961-D | 209,146,550 |
| 1962 | 72,450,000 |
| 1962-D | 334,948,380 |
| 1963 | 123,650,000 |
| 1963-D | 421,476,530 |
| 1964 | 929,360,000 |
| 1964-D | 1,357,517,180 |
| 1965 | 1,652,140,570 |
| 1966 | 1,382,734,540 |
| 1967 | 2,244,007,320 |
| 1968 | 424,470,400 |
| 1968-D | 480,748,280 |
| 1969 | 145,790,000 |
| 1969-D | 563,323,870 |
| 1970 | 345,570,000 |
| 1970-D | 754,942,100 |
| 1971 | 162,690,000 |
| 1971-D | 377,914,240 |
| 1972 | 431,540,000 |
| 1972-D | 330,290,000 |
| 1973 | 315,670,000 |
| 1973-D | 455,032,426 |
| 1974 | 470,248,000 |
| 1974-D | 571,083,000 |
| 1975 | 585,673,900 |
| 1975-D | 313,705,300 |
| 1976 | 568,760,000 |
| 1976-D | 695,222,774 |
| 1977 | 796,930,000 |
| 1977-D | 376,607,228 |
| 1978 | 663,980,000 |
| 1978-D | 282,847,540 |
| 1979 | 315,440,000 |
| 1979-D | 390,921,184 |
| Issue | Mintage |
| --- | --- |
| 1980-P | 735,170,000 |
| 1980-D | 719,354,321 |
| 1981-P | 676,650,000 |
| 1981-D | 712,284,143 |
| 1982-P | 519,475,000 |
| 1982-D | 542,713,584 |
| 1983-P | 647,025,000 |
| 1983-D | 730,129,224 |
| 1984-P | 856,669,000 |
| 1984-D | 704,803,976 |
| 1985-P | 705,200,962 |
| 1985-D | 587,979,970 |
| 1986-P | 682,649,693 |
| 1986-D | 473,326,970 |
| 1987-P | 762,709,481 |
| 1987-D | 653,203,402 |
| 1988-P | 1,030,550,000 |
| 1988-D | 962,385,489 |
| 1989-P | 1,298,400,000 |
| 1989-D | 896,535,597 |
| 1990-P | 1,034,340,000 |
| 1990-D | 839,995,824 |
| 1991-P | 927,220,000 |
| 1991-D | 601,241,114 |
| 1992-P | 593,500,000 |
| 1992-D | 616,273,932 |
| 1993-P | 766,180,000 |
| 1993-D | 750,110,166 |
| 1994-P | 1,189,000,000 |
| 1994-D | 1,303,268,110 |
| 1995-P | 1,125,500,000 |
| 1995-D | 1,274,890,000 |
| 1996-P | 1,421,163,000 |
| 1996-D | 1,400,300,000 |
| 1996-W | 1,457,000 |
| 1997-P | 991,640,000 |
| 1997-D | 979,810,000 |
| 1998-P | 1,163,000,000 |
| 1998-D | 1,172,250,000 |
| 1999-P | 2,164,000,000 |
| Issue | Mintage |
| --- | --- |
| 1999-D | 1,397,750,000 |
| 2000-P | 1,842,500,000 |
| 2000-D | 1,818,700,000 |
| 2001-P | 1,369,590,000 |
| 2001-D | 1,412,800,000 |
| 2002-P | 1,187,500,000 |
| 2002-D | 1,379,500,000 |
| 2003-P | 1,085,500,000 |
| 2003-D | 986,500,000 |
| 2004-P | 1,328,000,000 |
| 2004-D | 1,159,500,000 |
| 2005-P | 1,412,000,000 |
| 2005-D | 1,423,500,000 |
| 2006-P | 1,381,000,000 |
| 2006-D | 1,447,000,000 |
| 2007-P | 391,000,000 |
| 2007-D | 624,500,000 |
| 2008-P | 413,000,000 |
| 2008-D | 637,500,000 |
| 2009-P | 96,500,000 |
| 2009-D | 49,500,000 |
| 2010-P | 557,000,000 |
| 2010-D | 562,000,000 |
| 2011-P | 748,000,000 |
| 2011-D | 754,000,000 |
| 2012-P | 808,000,000 |
| 2012-D | 868,000,000 |
| 2013-P | 1,086,500,000 |
| 2013-D | 1,025,500,000 |
| 2014-P | 1,023,000,000 |
| 2014-D | 1,080,500,000 |
| 2015-P | 1,497,510,000 |
| 2015-D | 1,543,500,000 |
| 2016-P | 1,517,000,000 |
| 2016-D | 1,437,000,000 |
| 2017-P | 1,437,500,000 |
| 2017-D | 1,290,500,000 |
| 2018-P | 1,193,000,000 |
| 2018-D | 1,006,000,000 |
| 2019-P | 1,147,500,000 |
| 2019-D | 1,001,500,000 |
| 2020-P | 1,333,500,000 |
| 2020-D | 1,445,000,000 |