Starting in the year 1980, the Philadelphia Mint began including the "P" mint mark on the obverse of Roosevelt Dimes. Just a few years later, the 1982 "No P" Roosevelt Dime (Buy on eBay) was created when a mint employee failed to add the mint mark to an obverse die.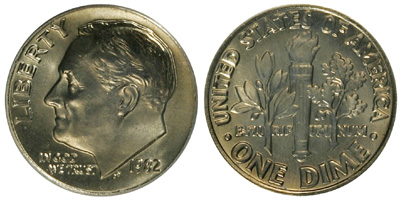 Discovery
The issue was first identified in December 1982, when dimes lacking a mint mark started to appear around Sandusky, Ohio. Approximately 8,000 to 10,000 pieces were found in this area. The next major discovery occurred in August 1983 when approximately 3,000 to 5,000 more examples were found around Pittsburgh, Pennsylvania.
Later comparisons noted that the earlier finds exhibited a strong strike, indicated by the date being separated from the rim of the coin, while the later finds exhibited a weaker strike, with the final numeral of the date close to the rim. The two different varieties have led to the conclusion that two different obverse dies had been used to strike the coins. Based on estimated die life, this would yield an approximate total mintage of 150,000 pieces.
Demand
The 1982 "No P" Roosevelt Dimes command a healthy premium, with uncirculated examples selling in the $100 to $200 price range. Higher grades or certified examples with the full bands designation command higher prices. The finest known pieces are several which PCGS has graded MS68, one of which sold for $2,195 in May 2004.
Coin Specifications
Designer: John R. Sinnock
Composition: 91.67% Coper, 8.33% Nickel
Weight: 2.27 grams
Diameter: 17.9 mm
Edge: Reeded