The 1946 Roosevelt Dime (Buy on eBay) was the first year of issue for the series. It was struck in large quantities, with the production of the Philadelphia minted coin reaching 255,250,000. This number exceeded the high mintage mark for the previous series of Mercury Dimes. It would also remain the highest mintage for the new Roosevelt Dimes series until the 1962-D coin was produced in a quantity exceeding 300 million.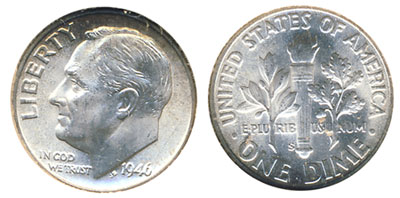 The 1946 dime was issued less than one year after President Franklin D. Roosevelt died in office. As one of the most popular Presidents, the coins were saved in large numbers by the public as souvenirs.
Besides the Philadelphia issue, the Denver Mint produced 61,043,500 coins and the San Francisco Mint produced 27,900,000. The latter carries a small premium above the other issues.
Coin Specifications
Designer: John R. Sinnock
Composition: 90% Silver, 10% Copper
Weight: 2.5 grams
Diameter: 17.9 mm
Edge: Reeded